I had a blast interviewing illustrator, top Skillshare teacher, and speaker, Tom Froese. Although we are talking about drawing and illustration in this interview, as an author I know you will learn many valuable skills and attitudes that will help you find your style, overcome creative pain points in the journey, and keep going until you become a professional children's book author.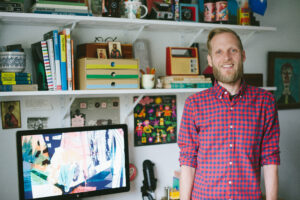 More about Tom:
Tom Froese is an award winning illustrator, teacher, and speaker. He loves making images that make people happy. In his work, you will experience a flurry of joyful colours, spontaneous textures, and quirky shapes. Freelancing since 2013, Tom has worked for brands and businesses all over the world. Esteemed clients include Yahoo!, Airbnb, GQ France, and Abrams Publishing. He is currently taking on highly creative projects of all kinds, including maps, murals, picture books, packaging, editorial, and advertising. Tom graduated from the Nova Scotia College of Art & Design with a B.Des (honours) in 2009.
As a teacher, Tom loves to inspire fellow creatives to become creatively empowered. He is a Top Teacher on Skillshare, where tens of thousands of students have learned his unique approaches to illustration. As a speaker, Tom is a passionate voice in the creative industry, aiming to inspire and equip the next generation of creatives and commercial artists. Tom has been invited to deliver workshops and lectures across the US and Canada, including ICON 10 in Detroit and Skillshare HQ in New York. In 2020,* he will be a curated TEDx speaker, where he will share his message of creative empowerment to a global audience. Tom also has a YouTube channel dedicated to inspiring and informing folks interested in the creative industry.
Tom is represented in the UK/Europe by Making Pictures and in the US by Dot Array.
FIND HIM HERE:
IG: @mrtomfroese
LISTEN TO THE PODCAST:
WATCH THE PODCAST: