Today's interview is with award-winning and bestselling author, podcast host, keynote speaker, and Director of Marketing for Draft2Digital, Kevin Tumlinson.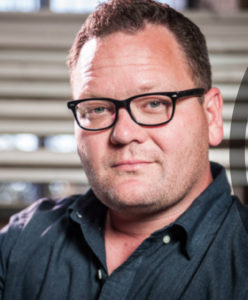 Kevin has dozens of novels, novellas, and non-fiction books available and is producing more every day. We were lucky enough to get another interview with Kevin, and today he talks to us all about using Draft2Digital's new service to turn your books into AUDIO BOOKS!
In this interview Kevin covers how to get your audiobook to market with Draft2Digital:
How having an audiobook can expand your author offerings and help you reach more readers.
Draft2Digital has partnered with Findaway Voices to produce your audiobook and distribute it to more than 170 countries. And no exclusivity required!
You can choose which distributors to sell your audiobook through, including through iTunes and Amazon. This is particularly useful for authors in countries who cannot use ACX to produce their audiobooks.
You can record your own audio files and upload them, or you can work with Findaway Voices to find a narrator for your book. There is no royalty split available. You own all the rights and pay for the narrator up front. And your book is professional quality!
Lots of great information from Marti about the process involved for the narrator to record your book.
Using Findaway Voices through Draft2Digital also means you save the $49 fee!
You keep 80% of the royalties from your book sales.
The potential to get audio books into schools.
You can use this service to distribute your books and still go direct with ACX so you get the lovely bonus money when someone signs up to Audible through your book.
You can find out more information about Draft2Digital and how to partner with them to create your audiobook HERE. You can find FindAway Voices here. And you can find Kevin at www.KevinTumlinson.com, follow him on AMAZON, and get social with him on TWITTER.
Enjoy the show.
LISTEN HERE:
WATCH HERE: