THE MAGICIANS' CONVENTION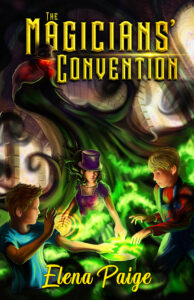 A secret convention. A magical hat. A race against the clock.
Twelve-year-old Toby is plunged into a world of magic when he wakes up to find his grandpa has been kidnapped by a talking panther.
Following the clues left behind Toby finds himself at the 999th Magicians' Convention. Filled with mages, illusionists, and obstacles at every turn, Toby and his newfound friends, Thatch and Wesa, must find an ancient magical hat before an evil magician gets his hands on it first.
Failing will mean the death of those they love and threaten the world of magic. A world that might finally reveal the secret of who they really are.
Come on a magical adventure to discover The Magicians' Convention, a middle-grade novel that will entertain and delight even the most reluctant of readers.
Ideal for kids ages 9+ and adults who love adventurous, page-turning fantasy stories.

Elena Paige's action and adventure fantasy novel for children and preteens, The Magicians Convention: The Magicians: Book 1, follows Toby as he discovers an entirely different world than the rather humdrum one he was familiar with.
Paige's plot is fresh and imaginative, and her characters soon felt like old friends. The Magicians Convention is brilliantly conceived and a lot of fun to experience through Toby's eyes, and his delight at having, for the first time, friends and companions, is a joy to share in.
Jack Magnus

The story takes readers on an amazing, fantastical adventure packed with magic, imaginary worlds, an evil magician, and interesting characters.
There is magic in the plot and Toby, along with his new friends, Wesa and Thatch, will keep readers spellbound as they start searching for the magical hat. All the characters in the story complement the main characters of Toby, Wesa, and Thatch perfectly.
The narrations are dreamy and detailed and will take young readers into a magical world, which will leave them fascinated. The fluidity in the writing takes the story forward without sounding forced, and it is exciting to see three innocent kids having fun with magic.
All kids love magic and this story - with its intrigue, magic, illusion, suspense, adventure, and action - will take readers to a fantasy land where they will be immersed in a world of whimsy and fantasy. I am sure, like me, that readers will be waiting for the next book in the series.
Mamta Madhavan
THE CURIOUS PEOPLE ACROSS THE STREET
Tingles of excitement ran down his spine, like electricity searching for Earth. Toby peered carefully from behind the curtain. Something important was happening across the street. 
Why would so many people line up outside Mrs. Inkwell's house so early on a Sunday morning? The neighbors' shutters were all shut tight. He glanced at his clock. It was just past eight. The only person who ever visited Mrs. Inkwell was her granddaughter, Abby. Besides, how would so many people even fit inside a one-bedroom house with a kitchen as small as a bathroom?
Toby squinted to make sure his eyes weren't tricking him. All the adults in the line wore long black cloaks. Being an avid reader, he would have instantly decided they were vampires had it not been for the hats they all wore. Top hats. He decided on the spot they must all be magicians. But this didn't fit because their long elegant hats weren't black. They were gold or purple. 
As the light autumn breeze blew across the narrow street, the cloaks danced about in the light, revealing inner linings of either purple or golden stars to match their owners hats.
Toby watched in awe as the line shuffled forward. If only he could get a view of Mrs. Inkwell's front door so he could see if she was letting them in. That blasted banksia tree was hiding his view of her front door.
"Maybe they're going through a magic portal," he mumbled aloud. He frowned at his own words, annoyed at himself for saying it. Magic wasn't real.
"New book you're reading?"
Startled, Toby turned to see his grandpa standing at the bedroom door. "Grandpa, I told you to knock." 
"Ah yes. I keep forgetting." He walked into the room and sat on the bed, frowning at the mess of clothes and books.
"You've got to see this to believe it, Grandpa." Toby waved him over.
"The magic portal, you mean? Oh, it's outside your window, is it?"
"No, that was me goofing around. This is for real. Check out the line of people outside Mrs. Inkwell's house. If only I could see her front door." He felt positively giddy with excitement. He lived in Fun Street. And unlike the name suggested, nothing exciting ever happened in Fun Street. Until today. Toby sighed at Grandpa, wondering why he was still sitting on the bed. Wasn't he curious about them all?
"So, what's happening at Florence's house? That cute little granddaughter of hers come visiting again?"
"No, not Abby. It's complete strangers." Why was Grandpa not looking for himself?
"And"—emphasized Toby—"Abby is boring. All she ever talks about are her annoying dolls. What ten-year-old still plays with dolls?"
Grandpa was constantly nagging him to spend more time with her when she was visiting her Grandma. But he always did his best to avoid her.
"Well, I think lots of ten-year-olds still play with dolls. They just don't admit it. I like Abby. She has spunk. Besides, there's no hurry to grow up, is there?"
Toby rolled his eyes.
"So what will it be for breakfast this morning? Eggs or pancakes?"
"Whatever, Grandpa. You choose. But first, seriously, come and see the people outside. It's like they're straight out of a storybook." Toby pulled the curtains aside, pointing to the people lined up only yards away in the narrow little street. 
Grandpa entertained him with a quick glance outside. "The sun is shining brightly on this lovely autumn day in Moonee Ponds. Florence Inkwell's quaint little cottage is looking peaceful across the way. No sign of Abby, and not even a possum looking for breakfast this morning."
Confused, Toby looked back outside. "Grandpa! Stop kidding around. Don't you think it's strange, all those people visiting Mrs. Inkwell? And dressed like that."
Granda turned away and scratched his head. "To be honest, I can't see anyone at all."
"You can't see anyone?" Toby knitted his eyebrows together and clenched his jaw. 
"Nope. Not a soul. Not even Florence herself is up yet by the looks. Toby, what's this really about? Are you still angry at me because I refuse to buy you a television?"
Toby stiffened and frowned. What was going on? Could Grandpa really not see them? Had all the people already vanished inside Mrs. Inkwell's house? There were at least a few hundred lined all the way up the street when he had last looked. 
He glanced back outside, glad to see them all still there. "It's nothing to do with the TV, Grandpa. Tell me the truth. You can't see anyone outside? You can't see hundreds of people all the way down the street?"
"Oh, are we playing a game? Sure. I can see hundreds of people all the way down the street." Grandpa repeated Toby's words. He put one hand to his forehead as though looking far into the distance. "Ah yes, an interesting lot. They're all looking at Florence Inkwell." He paused as he scratched his bald head for ideas. "And she just pulled out a broomstick. Yes, she's really a witch!" Impressed with himself, he chuckled. "How's that for a story?"
"Stop it, Grandpa. This isn't funny. This is real." The blood rushed to Toby's head. "Look properly." 
Grandpa cleared his throat and looked again. "Nobody's out there. Not a soul. You definitely need breakfast. Did you stay up late reading again last night?"
"You can't see a single person standing outside wearing a top hat and cloak?" persisted Toby. His voice bounced off his blue bedroom walls, hitting him in the pit of his stomach. What was going on here?
"Top hats and cloaks? This is more serious than I thought. How about we get some food and investigate together afterward? What do you say?"
Toby's heart raced faster than his mind. He was used to Grandpa joking around with him and playing pranks. If this was another one of his jokes, he'd really gone too far. That many people outside his window on a Sunday morning would go down in history as the best prank ever. He had to figure this out himself. 
"I'm not hungry. I think I'll skip breakfast and, um, read a book." He quickly grabbed one of his many books from the shelf close by and lay on his bed reading. He sucked in the air slowly, calming himself down. 
"Suit yourself. How about you try reading the book the right way up? Reading upside down could cause some serious damage. Teenagers!" Grandpa winked and walked out, closing the bedroom door behind him.
"I'm not a teenager until I turn thirteen. I only just turned twelve!" yelled Toby after him.
He threw the book across the room and jumped up, drawn back to his window. There they were, plain as day. The people had moved forward considerably since he had last looked, and at least a few hundred more had joined the line, which now trailed even further down the street.
Was it a prank? Was he hallucinating? Or were they real? Only one way to find out. He would sneak out across the street and find out for himself.
GET THE E-BOOK FREE! Also available in paperback and hardback editions...
"Oh my goodness you had me from the first word and I could not put it down. What a wonderful journey with some fun new characters. Lots of great images, lots of action, lots of twists - what else could you want in a book? Answer absolutely nothing. I am so looking forward to reading the remaining books to the series.
If you like Angie Sage's Septimus Heap series and you like Harry Potter then you will fall in love with this book . I had been looking forward to reading this book and it did not disappoint great job and thank you. I don't know if I have enough superlatives to describe this book but my advise is just read it and enjoy. Best read in a while."
SCOTT PATTERSON